Minoxidil, Rogaine, Regaine
Medication capable of causing human hair growth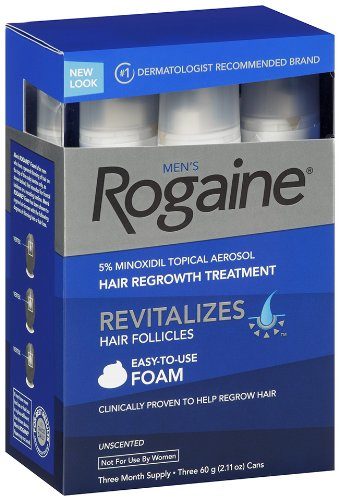 In 1998, The FDA (U.S. Food and Drug Administration) approved the first drug acting on the scalp and capable of generating human hair growth. Its name : Minoxidil in a 2% solution.
Clinical studies have proven that Minoxidil slows down or even halts the progression of hair loss and, in other cases, causes hair regrowth in the crown area of the head (vertex). Minoxidil is known by its brand name Rogaine®.
Rogaine® is now available in a 2% and in a 5% solution. In men, the 5% solution is fifty percent more effective than the 2% solution. The best results are achieved in the first 5 months to 2 years followed by a gradual loss of effectiveness.
In a long-term perspective, men using Minoxidil will continue to shed hair at slowing rate. The combined use of Minoxidil and Finasteride can resolve this problem, several cases have demonstrated a synergistic effect. It can take from 6 months till up to one year before visible results are obtained.
The mode of action by which Minoxidil stimulates hair regrowth is unknown, it's probably responsible for the extension of hair cycles by increasing the volume and length of diminished hairs.
---
How to use Rogaine® ?
It needs to be applied two times a day (mornings and evenings) in a dose of 1ml Rogaine® directly applied to the affected area of the scalp. Regardless of the applicator used, ensure that Rogaine® is spread on your scalp rather than in your hair.
What will happen when I abandon Rogaine® treatment ?
You need to continue to apply Rogaine® in order to continue to reap it's benefits. When abandoning treatment, regrowth ceases and regression to the initial state can be expected within the first three to four months following abandonment of the treatment. If you start Rogaine® treatment and if you're satisfied with the results, it's vital to continue to apply it on a daily basis.
What is Rogaine® 's mode of action ?
Rogaine® holds an active ingredient, Minoxidil, which revitalises hair follicles and causes them to shift from a dormant phase to an active growing phase. Researchers believe it stimulates blood circulation towards the scalp's cells that are responsible for hair growth or, alternatively, that it could enhance the amount of these cells.
To what extend is Rogaine® effective ?
In consumer surveys of more than 7,000 men using Rogaine®, 80% of them noticed significant difference and 48% of them reported either strong or moderate regrowth.
Can I use Rogaine® to treat a receding hair line ?
How often do I need to use Rogaine® in order to achieve the best results ?
In order to optimise results, you should use Rogaine® at a rate of two applications a day to prevent hereditary hair loss. Use according to instructions, 4 users out of 5 users noticed reduction of hair loss within 4 months and nearly 50% of users noticed strong or moderate hair regrowth after twelve months of product use.
Side effects of Minoxidil.
As with any other medication, Minoxidil can cause some undesirable reactions. These reactions are usually of moderate intensity and some of them tend to occur when applying higher doses.
Refrain from using Rogaine® on your scalp in case of :
rash or inflammation,
sensibility of the scalp to touch (like when heaving bad sunburn),
lesions or cuts,
burns.
When to stop using Rogaine® and to consult with your general practitioner ?
Cease use of Rogaine® and consult with your physician in case of :
chest pains or accelerated heart rate as these symptoms could be early signs of a serious adverse reaction to this drug,
feebleness or dizziness,
unexplained weight loss of over 2,5 kg (5 pounds) or more,
oedema of the hands or feet,
rash or irritation at the product-application zone,
unusual lesions (wounds).
What factors may increase the risk of serious side effects with Rogaine® ?
Minoxidil (Rogaine®) is destined for the scalp. Risk of side effects can increase when using the product on other parts of the body.